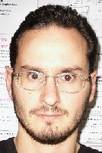 | | |
| --- | --- |
| Position: | Assistant Professor |
| Area: | ING-INF/05 |
| E-mail: | luigi.pomante(at)univaq.it |
| Phone: | +393207745347 |
| Fax: | +390862434403 |
| Web: | http://www.pomante.net/ |
Short CV
Luigi Pomante has received the "Laurea" Degree in Computer Science Engineering from the "Politecnico di Milano" (Milano, Italy) in 1998, the M.S. Degree in Information Technology from CEFRIEL (a center of excellence of the "Politecnico di Milano") in 1999, and the Ph.D. Degree in Computer Science Engineering from the "Politecnico di Milano" in 2001.
He had been a Researcher at CEFRIEL from the 1999 to 2005 and, in the same period, he had been also a Temporary Professor at "Politecnico di Milano". From 2006, he is an Academic Researcher at DEWS (a Center of Excellence for the research of the University of L'Aquila, Italy) and a consultant at WEST Aquila (a SME, spin-off of the University of L'Aquila). From 2008 he is also Assistant Professor at University of L'Aquila.
His activities focus mainly on Electronic Design Automation, HW/SW Co-Design and Networked Embedded Systems (in particular Wireless Sensor Networks). In such a context he has been author (or co-author) of more than 50 articles published on international and national conference proceedings and journals. From 2008 he has been also member of several the TPC on relevant conferences.
Publications
Meaningful Publications
Con C. Bolchini, F. Salice, D. Sciuto. "Reliability Properties Assessment at System Level: a Co Design Framework", Journal of Electronic Testing - Theory and Application (JETTA), Kluwer Academic Publishers, The Netherlands, Vol. 18, no. 3, p. 351-356, 2002 (ISSN 0923-8174)
Con C. Bolchini, F. Salice, D. Sciuto. "The Design of Reliable Devices for Mission Critical Applications", IEEE Trans. on Instrumentation and Measurement (TIM), Vol. 52, no. 6, pp. 1703-1712, 2003 ISSN:0018-9456/03.
Con D. Sciuto, F. Salice, W. Fornaciari, C. Brandolese. "Affinity-Driven System Design Exploration for Heterogeneous Multiprocessor SoC", IEEE Transactions on Computers, vol. 55, no. 5, Maggio 2006.
Con S. Tennina, F. Graziosi, M. Di Renzo, R. Alesii, F. Santucci. "Integrated GPS-denied Localization, Tracking and Automatic Personal Identification". 20th Tyrrhenian International Workshop on Digital Communications, Springer Book Series 2009.
Con P. Di Felice, M. Ianni. "Design and evaluation of a spatial extension of TinyDB for wireless sensor networks", International Journal of Computers and Their Applications Manuscript, September 2010.
"System-Level Design Space Exploration for Dedicated Heterogeneous Multi-Processor Systems". IEEE International Conference on Application-specific Systems, Architectures and Processors, Santa Monica, Settembre 2011.
Ongoing projects
He is the person in charge of technical/scientific aspects in the following research projects:
European Research Projects
ERC-2009-StG 240555-VISION
ARTEMIS JU 2010-269362-PRESTO
ARTEMIS JU 2011–295371-CRAFTERS
National Research Projects
Bando Riditt 2009-SMILING