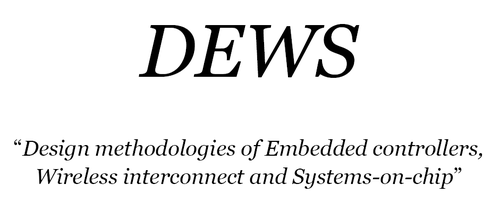 The vision that originated DEWS is based on the use of information technology in the interest of society. In particular, DEWS researchers focus on the design, implementation and management of wireless sensor and control networks. The applications of these systems in everyday life are numerous and are geared towards creating a better environment for mankind to work and live, e.g. monitoring the environment.
DEWS research is interdisciplinary; only full cooperation among researchers of different scientific fields can reach the ambitious specific research objectives in the field of interest. DEWS has established strong research collaborations with some of the most prestigiuos academic institutions world-wide. Moreover, DEWS has developed and strengthened research cooperation with international companies.
Hybrid dynamical systems, when broadly understood, encompass dynamical systems where states or dynamics can change continuously as well as instantaneously. Hybrid control systems arise when hybrid control algorithms — algorithms which involve logic, timers, clocks, and other digital devices — are applied to classical dynamical systems or systems that are themselves hybrid. Hybrid control may be used for improved performance and robustness properties compared to classical control, and hybrid dynamics may be unavoidable due to the interplay between digital and analog components of a system.
The course has two main parts. The first part presents various modeling approaches to hybrid dynamics, focuses on a particular framework which combines differential equations with difference equations (or inclusions), and present key analysis tools. The ideas are illustrated in several applications. The second part presents control design methods for such rich class of hybrid dynamical systems, such as supervisory control, CLF-based control, invariance-based control, and passivity. A particular goal of the course is to reveal the key steps in carrying over such methodologies to the hybrid dynamics setting. Each proposed module/lecture is designed to present key theoretical concepts as well as applications of hybrid control of current relevance.