The nearest airports to L'Aquila are those in Pescara and Rome, where the main world air companies land. For further information please have a look at the respective websites:

The following image summarizes how to reach L'Aquila from these airports by means of public transportation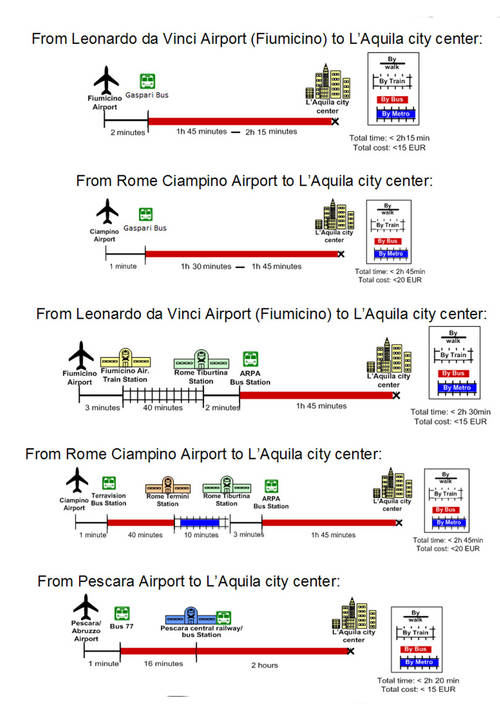 L'Aquila by Air
L' Aquila can be reached by the Rome International Airport "Leonardo da Vinci" of Fiumicino FCO or by the smaller International Airport of Ciampino.
From Rome Tiburtina Railway Station to L'Aquila by bus – ARPA coach
The regional bus company is ARPA (Autolinee Regionali Pubbliche Abruzzesi). The information desk is Sistema S.p.A. L'Aquila, Phone: (+39)-0862-412808Web: www.arpaonline.it (In Italian)Approximate time travel is 1h and 45 min. depending on traffic congestions getting in or out Rome.
ARPA coach: ROME - L'AQUILA
Feriali - working days: 6.45, 7.30, 8.10, 9.00, 10.00, 11.00, 12.25, 13.20, 14.15, 14.45, 15.15, 16.15, 17.15, 17.45, 18.15, 18.45, 19.30, 20.30, 21.30,23.00
Festivi - holidays: 8.10, 11.00, 12.25, 13.30, 15.00, 18.00, 19.00, 19.30, 20.30, 21.30, 22.00, 23.00
ARPA coach: L'AQUILA - ROME
Feriali - working days: 4.30, 5.00, 5.30, 6.15, 6.45, 7.15, 8.00, 9.00, 10.10, 11.00, 12.00, 13.00, 13.30, 14.05, 15.20, 16.15, 17.15, 18.00, 19.00, 20.15.
Festivi- holidays: 6.00, 8.00, 10.10, 12.30, 15.00, 15.20, 18.00, 19.00, 20.15

You can download schedule on
http://www.arpaonline.it/arpaonline/files/pdf/opuscoli/l_aquila_8.pdf
and go to page 11.
The Bus Terminal of ARPA Lines is located into the Bus Station, right corner of the TIBURTINA Railway Station (East Side of Rome)
Ø The Rome International Airport Leonardo da Vinci is connected to the Tiburtina Station by local trains (from 6.00 AM to 22.30 PM) in approximately 45 minutes. (tickets cost is presently Euro 8). By using the Taxi from the Airport to Tiburtina Station is expensive (about Euro 60-70). If you really need it, ask for the price in advance. Train schedules are on www.trenitalia.com
Ø The Rome International Airport Leonardo da Vinci is also connected to the Termini Station by special train called Leonardo Express (from 6.30 AM to 23.30 PM). It takes 30 minutes. Price is quite expensive (14 Euros).
Ø TERMINI Railways Station is connected to TIBURTINA Railways Station by underground (METRO line B direction Rebibbia).
Ø Rome METRO (and Rome city bus) ticket price is presently 1,50 euro. Tickets are sold by vending machines (often out of service) or by any newspapers store inside Rome Railway Stations.
Ø ARPA COACH TICKETS must be purchased before you step into the bus, at the ARPA ticket office inside the BUS Terminal - Ticket price from Rome to L' Aquila (single journey) is presently Euro 11.00 - Normally no tickets are sold on board.
Ø L' Aquila Bus Terminal is located in the Underground City Parking of Collemaggio at level -1. From there you may get downtown main square Piazza Duomo by bus. You may eventually step down at the first bus stop in L'Aquila (as soon it exits from the Highway A24) on a side of the Hotel Amiternum.
L'AQUILA BY BUS – GASPARI COACH
Gaspari coach offers direct connection from Leonardo Da Vinci and Ciampino Airports to L'Aquila. Tickets are about 16 Euros.
Phone: (+39)-085-8004868
Web: www.gasparionline.it (in Italian and in English)
Email: info@gasparionline.it, info@gaspariairport.it
GASPARI COACH TICKETS can be purchased online at http://www.gasparionline.it/
The Gaspari bus stop is located:
Leonardo da Vinci Airport: outside Terminal 3, Arrivals on the right hand side (20 meters).

Ciampino Airport: Bus station on the left hand side of the main entrance (10 meters).
GASPARI COACH : From Rome to L'Aquila
Departure Arrival
From Rome (Leonardo da Vinci Airport) - via Rome (Ciampino Airport) - to L'Aquila (Bus stop near Hotel Amiternum) – Final Stop Alba Adriatica
9.00 11.00 Rome (Leonardo da Vinci Airport) - L'Aquila
11.00 13.00 Rome (Leonardo da Vinci Airport) - L'Aquila
14.10 16.00 Rome (Leonardo da Vinci Airport) - L'Aquila
16.00 18.15 Rome (Leonardo da Vinci Airport) - L'Aquila
19.00 21.00 Rome (Leonardo da Vinci Airport) - L'Aquila
21.30 23.15 Rome (Leonardo da Vinci Airport) - L'Aquila
GASPARI COACH : From L'Aquila to Rome
Departure Arrival
From L' Aquila (Hotel Amiternum) – via Rome (Ciampino Airport) – to Rome (Leonardo da Vinci Airport)
03.00 05.00 L' Aquila - Rome (Leonardo da Vinci Airport)
05.00 07.00 L' Aquila - Rome (Leonardo da Vinci Airport)
08.00 10.15 L' Aquila – Rome (Leonardo da Vinci Airport)
10.00 12.15 L' Aquila – Rome (Leonardo da Vinci Airport)
13.00 15.00 L' Aquila – Rome (Leonardo da Vinci Airport)
16.00 18.10 L' Aquila – Rome (Leonardo da Vinci Airport)
Local Transport
Public busses reaching the venue are all available at this link:
www.ama.laquila.it/it/linee-orari-ama.html